Medley, Dublin City Centre - Styled Wedding Shoot
One of the styled wedding shoots we worked on last year was for the very chic city centre venue, Medley.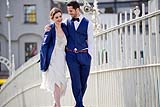 Wedding couples on the search for the alternative wedding - with a New York feel, Medley is defiantly top of the list to look at, located on Fleet Street East in Dublin City, formally part of The Irish Times Building.
After meeting with owner of Medley, Andrew Rudd, the plan for the shoot was to take about a ten-minute walk from Medley around the city centre and take in some of Dubin City's atmosphere. Some of the stops en-route were City Hall and the iconic Olympia Theatre.
Styled wedding shoots tend to be early start, so early that morning Denise Bray (Hairstylist) and Michelle T (Make up Artist) were on-board; a great team and always good craic with these ladies around.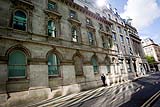 Thanks to Andrew Rudd for taking the time to send us a review:
When we were designing our wedding brochure we got in touch with Ruth Foran Photography to supply us with imagery that we could use in our brochure, website, and social media. We were looking for a photographer who could bring to life the experience that couples have when they choose Medley as their wedding venue. We were thrilled with the results.

Ruth & Martin captured the magic of not only our venue but also the amazing opportunities for great photos in our location. We were thrilled with the results and the images have been commented on many times by our clients. I can't recommend them highly enough.

Andrew Rudd, Medley, Fleet St, Dublin
Credits:
Hair Stylist - Denise Bray
Make Up Artist - Michelle T
Bridal Wear - Little White Dress
Grooms Wear - Louis Copeland